FURNITURE YACHT REFINISHING - FORT LAUDERDALE / DANIA BEACH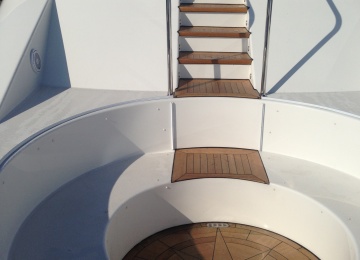 FURNITURE REFINISHING/ STAINS AND VARNISHES
CNB Yacht Refinishing, located in Fort Lauderdale/ Dania Beach area , offers full interior refinishing color stains, conversion varnish, and clear coat. Our team matches stains, spray lacquers, and sealers. We take care to cover and protect all soft goods on the vessel.
CNB Yacht Refinishing team is also, refinishing flooring, and most composite products. We replace or repair most flooring planks or veneer products on table tops and interior panels, carefully labeling all hardware and components, when involving full refit.
We communicate with project managers, owners, captains, and crew to achieve our goal: beautiful, flawless finished product on time and on budget!
Our full service facility can accommodate refinishing of tables, chairs, bar tops, as well as onsite service.
CNB Yacht Refinishing can match stains and colors used on all European, Asian, and overseas built vessels, on the market today. Our experts have the knowledge to refinish an old tired interior to look new again, communicating with interior designers, owners, and coordinators to achieve consistent quality results, on any interior repair. We are mobile service that comes to your location, from Miami, to Fort Lauderdale /Dania Beach, all the way to West Palm Beach area.