YACHT FAIRING - FORT LAUDERDALE / DANIA BEACH
Fairing is epoxy filler compound used to level out any uneven areas on both, metal and fiberglass vessels. The advantage of using a fairing compound over standard polyester fillers is the bonding strength, elasticity, and longevity of the material. The key although is in the preparation of the surface to be faired. CNB Yacht Refinishing grinds metal to 36 grit and fiberglass to 180 grit, then epoxy primer is applied on metal. Aluminum surfaces require a surface profile 0f 2-3 mills and sometimes sand blasting is required, depending on the condition of metal. After the primer is sanded, the surface is ready for fairing application.
The fairing comes in fast dry or standard, depending on the project involved. Large surfaces will require more time to apply, so the standard dry is recommended.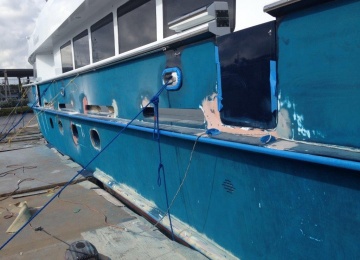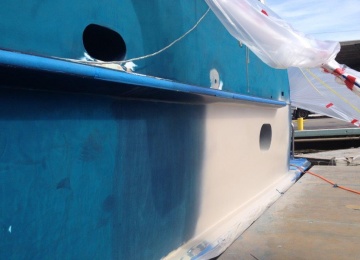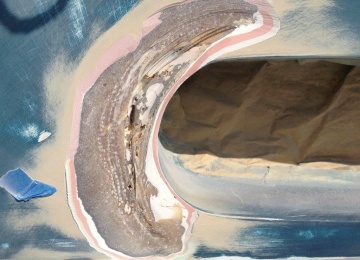 There are several fairing manufactures, Alwgrip, Alexeal, etc., but we try make certain that the product we use is compatible to what is currently on the vessel , in coordination with the final finish , primer, and paint that will be applied. In new vessel construction, there are many options available. CNB Yacht Refinishing technicians mix the 2 components thoroughly to a uniform consistency with no streaks of unmixed material. Lumps will cause future micro blistering. We take extreme care in the mixing of these 2 components. We apply fairing to areas that can be applied in approx. 30 min to avoid procure, and then a new batch is mixed. We start with thin coats in low areas, then build out to high areas and allow to cure. Several applications are required to fill large voids, block and machine sand with 36-80 grit.
CNB Yacht Refinishing, assures the faired panel has a uniform surface, which matches the quality and profile for the project. The recommended wet film thickness is 240 mils, or 6000 microns per coat. Cure time is extremely important in order to avoid imprinting. Recommended cure time is 24 hours and full cure 7 days. Therefore, when planning fairing work, contact CNB Yacht Refinishing first, in order to adequately set up work scope and schedule for your next fairing project, we guarantee your boat will turn out stunning. We are fully insured and servicing Fort Lauderdale/ Dania Beach , Miami , West Palm Beach area.